Genie9 - chuyên gia mới nổi trong lãnh vực sao lưu và phục hồi đủ loại dữ liệu hiện đang cung cấp miễn phí:
Genie Timeline Home 2013
Genie Timeline Home 2013 hỗ trợ sao lưu dữ liệu hệ thống nhanh chóng chỉ trong 3 bước, có thể phục hồi ngay cả khi máy không khởi động vào Windows được.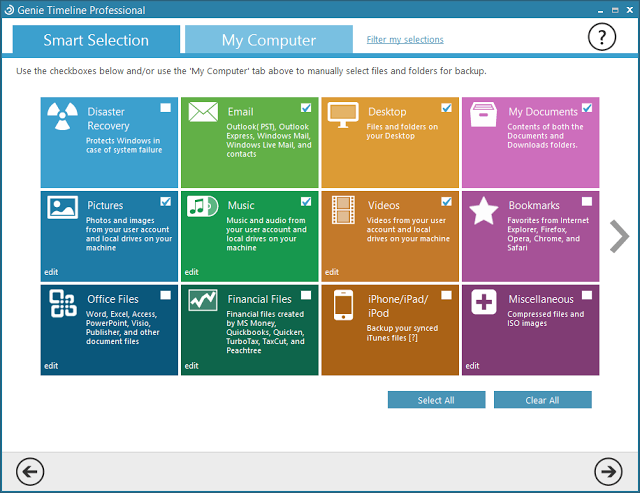 Bản quyền Genie Timeline Home 2014 có giá 39,95USD nhưng Genie Timeline Home 2013 thì miễn phí. Để nhận key bản quyền, bạn truy cập vào
đây
, nhập họ tên, email vào hai ô trống tương ứng, chọn quốc gia tại hộp Country, gõ mã xác nhận rồi nhấn Register.
Đăng nhập vào hộp thư, mở
email gửi đến từ Genie9 Sales
nhận mã số bản quyền, nhấn liên kết
DOWNLOAD FREE
để tải về file cài đặt (dung lượng 11,8MB).
Tiến hành cài đặt Genie Timeline Home 2013 và kích hoạt bản quyền với mã số bản quyền nhận được.
Genie Timeline Pro/Home/Server 2014 5.0.1.100 Multilingual
Download:
Hướng dẫn sử dụng:

1. Block soft from calling home to validate serial through your firewall or add to your 'hosts' file (\WINDOWS\system32\drivers\etc\hosts):

0.0.0.0 

www.genie-soft.com

0.0.0.0 

www.genie9.com

2. Install soft, use our keygen to validate.

Win8 users if you are using the built-in 'Windows Defender' antivirus soft then you must exclude the 'hosts' file from being monitored by it or it will remove any changes you make to this file. Furthermore you must edit hosts file as admin.

Note: After running program x hours and it hasn't been able to validate its serial on-line it might ask for the serial again. If this happens just close that window and view Help/About to see that it is indeed still there and working fully.

Always remember to block applications (or go off line) from calling home 'during install'. Once installed, disable 'check for automatic updates' option if available, so that you don't get it blacklisted.